Microphlebectomy: A Residual Varicose Vein Treatment in El Paso, TX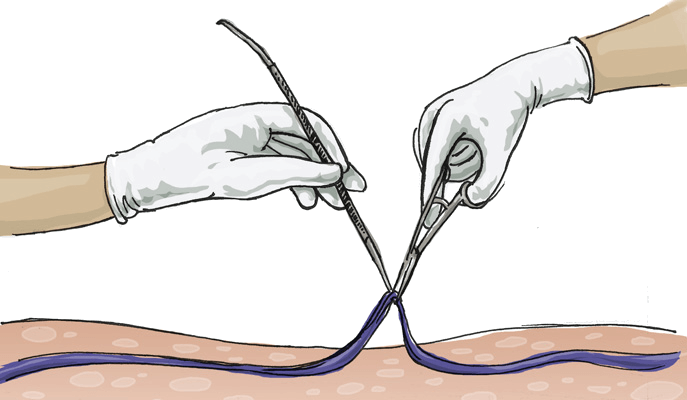 Some people confuse microphlebectomy with old fashioned "vein stripping" for varicose vein treatment, but the two procedures are completely different. Vein stripping, which is no longer performed, was very traumatic and required a long recovery period. Microphlebectomy is much gentler and leads to very high patient satisfaction with almost no "down time." Our patients drive themselves home from our office after the procedure and require no special care. The treated leg is healthier and looks much better after the disappearance of unwanted veins.
---
Frequently Asked Questions about Microphlebectomy
How is microphlebectomy performed?
Microphlebectomy is an in-clinic procedure for treatment of larger varicose veins that do not always regress after the VNUS Closure procedure. Following application of a local anesthetic, the area along the remaining bulging veins is numbed with medication and tiny nicks are made in the skin. Using special tiny instruments, the unhealthy bulging veins gently diminished. Stitches are not required.
Is there downtime for recovery from microphlebectomy?
Patients drive themselves home, work the next day, and are back to full exercise by day four. Some bruising and tiny scabs will be present initially, but within weeks, your legs will look and feel young and healthy without any trace of scarring. Most patients report not needing pain medication, while some take an over the counter pain reliever as a precaution. Dr. Emmanuel Anekwe has perfected his technique over the years and the results are unsurpassed.
What happens if I do not receive treatment for residual varicose veins?
Varicose veins that are not treated with microphlebectomy and do not regress following VNUS Closure or VenaSeal can continue to cause pain, heaviness, and fatigue in your legs. These veins also have increased risk for blood clot formation (thrombophlebitis), which can be very uncomfortable. Large varicose vein branches can negatively impact previously performed treatments. Every patient is unique, so one formula does not pertain to all.
Dr. Emmanuel Anekwe takes the time to personally assess your legs and support you every step of the way, ensuring that you understand what type of care is best.
Instructions For Recovery
To make sure the recovery process goes smoothly, follow all directions from your physician:
When seated or laying down, try to keep legs elevated whenever possible.
Wear compression stockings or bandages as recommended.
Avoid exercise and heavy lifting for 1-2 weeks afterwards.
Avoid hot environments like saunas and heated pools or baths.
Use prescribed medicines only as directed.
Take frequent walks to remain active and promote healing.