VNUS Closure - Varicose Veins Treatment in El Paso, TX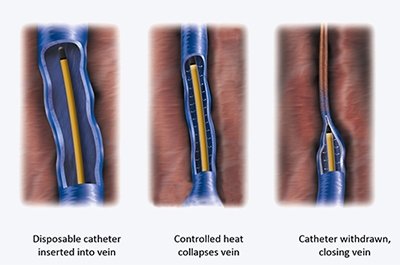 Arteries & Veins center in El Paso, TX and Las Cruces, NM is one of the borderland's recognized leaders in endovenous ablation using VNUS Closure. Dr. Emmanuel Anekwe has many years of experience in this procedure and our expert staff strives to inform patients and advise them on the best treatment options for her or him. This minimally invasive, high-tech procedure has dramatically changed the treatment of varicose veins. As a board certified Vascular Specialist (physicians specializing in venous disease), Dr. Anekwe has performed hundreds of VNUS Closure procedures.
The procedure is done under local anesthesia in the comfort of our clinics. Recovery is immediate and many patients note improved symptoms within a day or two.
---
Frequently Asked Questions about VNUS Closure Procedure
Will I have to go to the hospital?
All the vein treatments are performed by one of our board-certified vascular specialist in a Arteries & Veins center clinic. Each location is a fully accredited state-of-the-art facility with specialized treatment rooms, a vascular laboratory diagnostic center, and all the equipment necessary to safely perform treatments.
How long will the procedure take?
Less than 30 minutes. This time encompasses preparation, procedure time, and a brief recovery period.
Is the VNUS Closure procedure painful?
Other than the brief "stick and burn" that accompanies the local anesthetic injection, most patients report feeling little, if any, discomfort during this minimally invasive procedure.
What are the risks of the VNUS Closure procedure?
As with any medical procedure, despite the overall benefit, there are potential risks. Associated complications are extremely rare and include infection, paresthesia (numbness or tingling) and phlebitis. Our physicians will review the potential risks in detail at your consultation and answer all your questions to your satisfaction.
Patients report no scarring and minimal to no bruising or swelling following the VNUS Closure procedure. Most patients can resume normal activities immediately following the procedure. And, other than refraining from strenuous exercise and heavy lifting for three days, we encourage patients to walk and be active.